Our second day in Disney was spent at MGM, oh I guess I mean Hollywood Studios. I'll never get used to calling it that. Breakfast was a quick stop at McDonalds. I love their oatmeal though I am sure it isn't as healthy as I think it is.
When we arrived at the park the guys headed towards the Rock 'n' Roller Coaster and I headed towards Star Tours to get fast passes. I used to love riding roller coasters, but for some reason as I get older I the more subjectable I am to motion sickness. Anyway, it was the last weekend of Star Wars Weekend and as I was walking towards Star Tours I saw Ray Park signing autographs. He played Darth Maul in Star Wars. He also played Snake Eyes in G. I. Joe and Toad in X-Men. Have I mentioned that I am a bit of a geek. I was very excited to get some pictures of him.
We left the park pretty early that day and spent the afternoon at the pool. I was perfectly content drinking a pina colada and reading a book. For dinner we decided to head to Downtown Disney and eat at Gloria Estefan's restaurant
Bongos Cuban Cafe
. I ordered an appetizer of stuffed plantains with Shrimp Cuban Creole and a side order of black beans and rice. You really can't go wrong with anything you order from here. It is my favorite restaurant in Downtown Disney. I don't usually enjoy plantains but I love the ones stuffed with the Shrimp Cuban Creole. It isn't too spicy but seasoned perfectly with just a hint of heat.
There were actually three plantains, but I ate one before I remembered I was supposed to be taking a picture.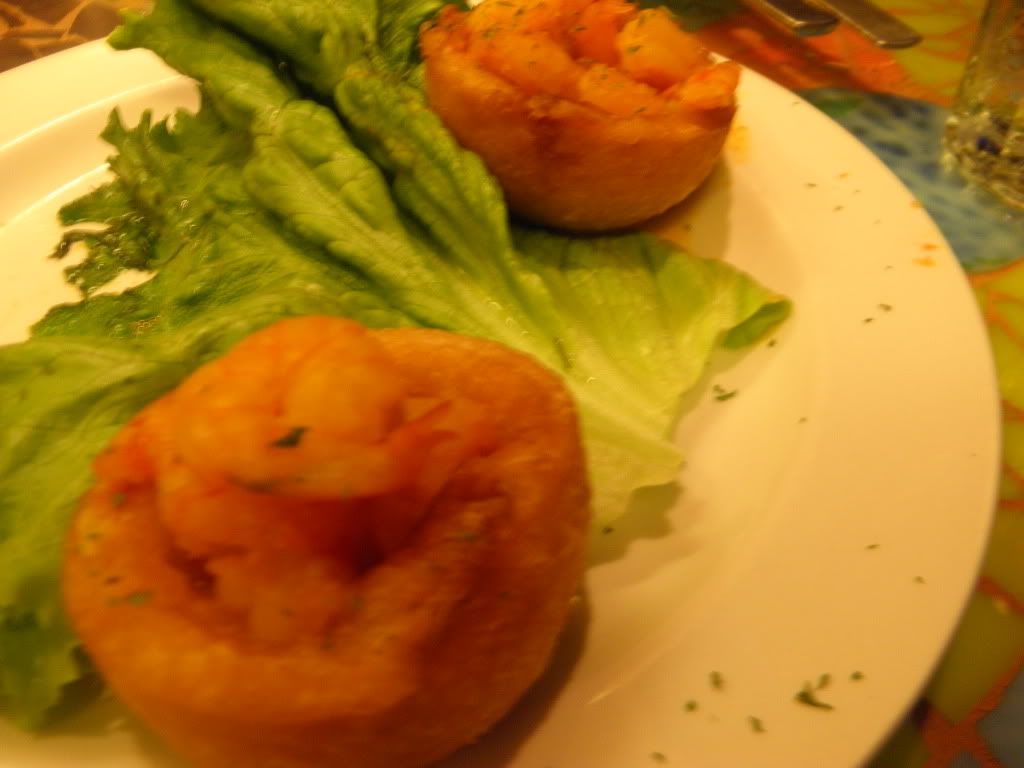 After dinner we headed back to the hotel and Michael and I stopped by the Beech Bar and I was able to enjoy the highlight of my trip. A Frozen Hot Chocolate. I have heard of frozen hot chocolate before, but have never tried it. There is a restaurant in New York called Serendipity 3 that is famous for it. The descriptions I have read about it describe it as having the consistency of a frozen daiquiri. The one at the Beech Bar was more like a milkshake, but it was delicious. It was almost like a frosty but more decadent. Michael and I shared it, but I completely hogged the drink and drank most of it. I can't wait to try and recreate it at home.