This weekend we took a mini vacation to Orlando to use our annual passes to Walt Disney World. It was a very hot, but fun weekend. We ate mostly fast food this trip but there were a couple of restaurants that we ate at that were worth recommending.
Friday morning we woke up early to drive to Orlando, we only live about 2.5 hours away. Breakfast was a quick stop at Chick-Fil-A. The first Disney park we visited was Epcot. If you're not familiar with the park, it is divided into two sections, Future World and World Showcase
.
After heading to Future World to get our fast passes for Soarin we decided to visit the World Showcase. Michael decided that he wanted to eat lunch in France at
Les Chefs de France
. Their menu was really limited and when I asked if something could be made without mushrooms, I was simply told no. That was bit of a disappointment, so I ended up just eating Lobster Bisque for lunch. The bisque was pretty tasty, but not the best I have ever had. For dessert the three of us split the sorbet trio. The flavors of the day were peach, kiwi and coconut. My favorite was the peach. No one cared for the kiwi flavor. The presentation of the dish was very appealing though.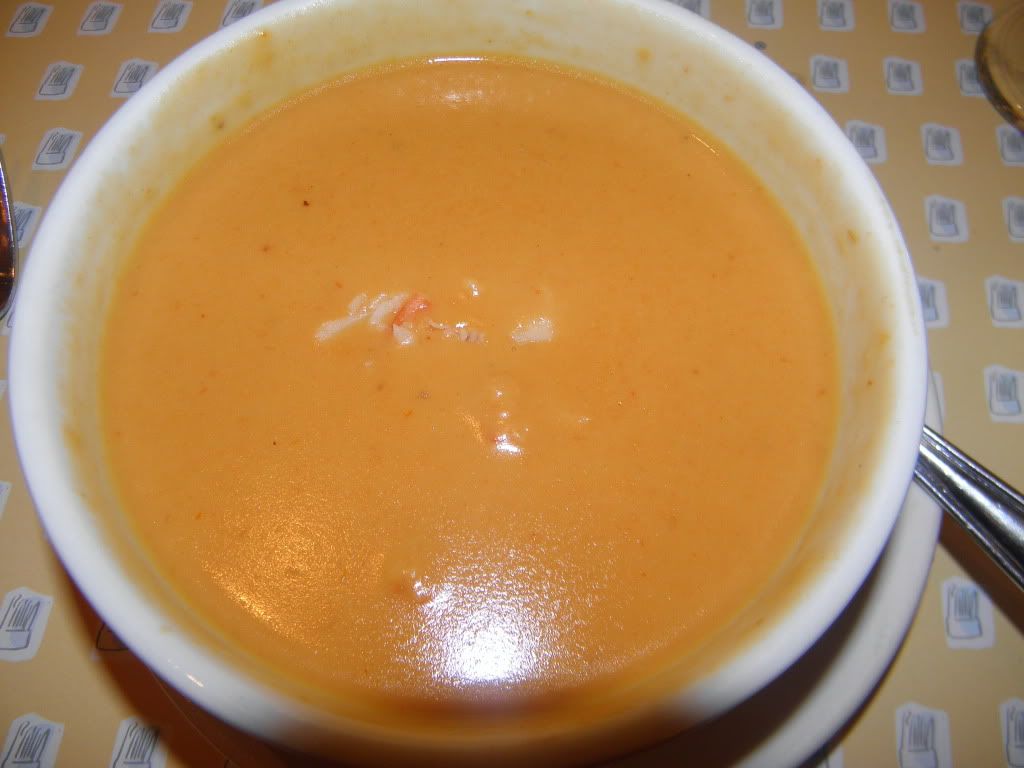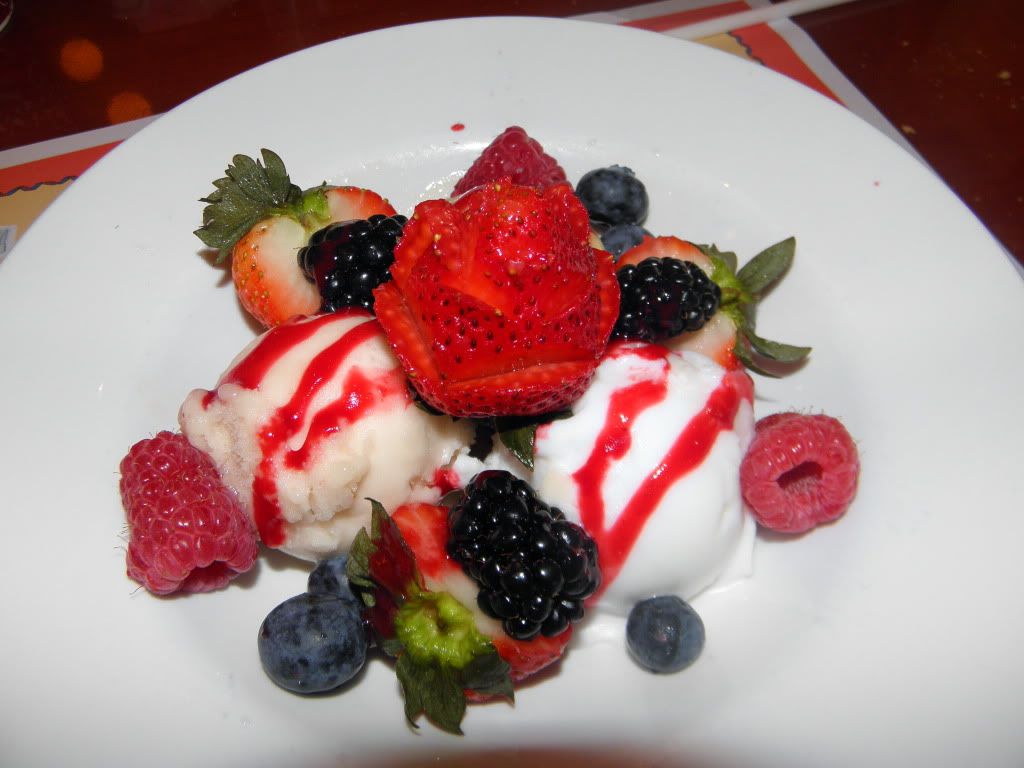 For dinner that evening we went to the
Rainforest Cafe
. My job gave me a gift certificate because I had good numbers one month and it came in handy because the prices can be a little expensive. Their website describes the restaurant as a part adventure, part restaurant and wholly entertaining for the whole family.
Everything we ordered was delicious and the portions were very generous.
Caleb ordered the Parmesan Chicken. It came with two large chicken cutlets, a side order of spaghetti and two pieces of crispy garlic bread. Caleb shared a bite with me and I enjoyed it. It was seasoned and breaded perfectly. Caleb says it was "muy bueno delicioso".
Michael ordered the BBQ Bacon Cheeseburger. I didn't taste it, but Michael said it was average and overpriced. It was a pretty large burger though and it came with onion rings.
I ordered one of their specials, Primal Steak with Coconut Shrimp, Shrimp Scampi, and Mashed Potatoes. I really enjoyed my meal. The portions were perfect. It was just enough to fill me up without over stuffing myself or having to take a to go box home. My only complaint was the steak. I asked for it to be cooked medium well and it was closer to medium rare. I know the experts say that medium is the ideal for steaks but I prefer for my meat to not still be mooing. Michael has a thing about not sending food back, so I let him finish the center of the steak. The coconut shrimp was pretty good too. It was only my second time trying coconut shrimp so I didn't have much to compare it to. I wish they had a special dipping sauce to go with it. The shrimp scampi was perfect.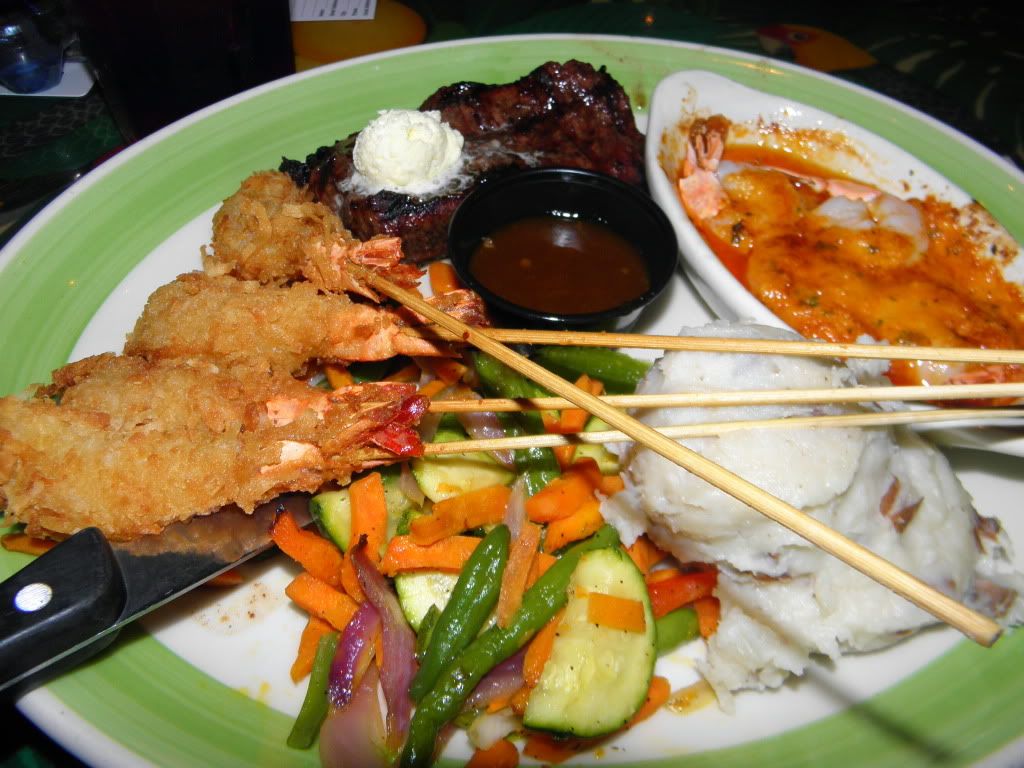 Now even though we were all full from dinner we had to order their signature dessert, the Volcano. The Volcano is basically a Hot Fudge Brownie Sundae. The portion is huge, big enough for the three of us to share without fighting over it. They used to bring the Volcano out with a sparkler on top but this time it just had a silver streamer thingy on it. That was a bit of a let down. But the dessert was as delicious as always. The brownie was rich and moist. The hot fudge was smooth and decadent. If you are on a budget I would recommend ordering a couple of appetizers and the Volcano to share.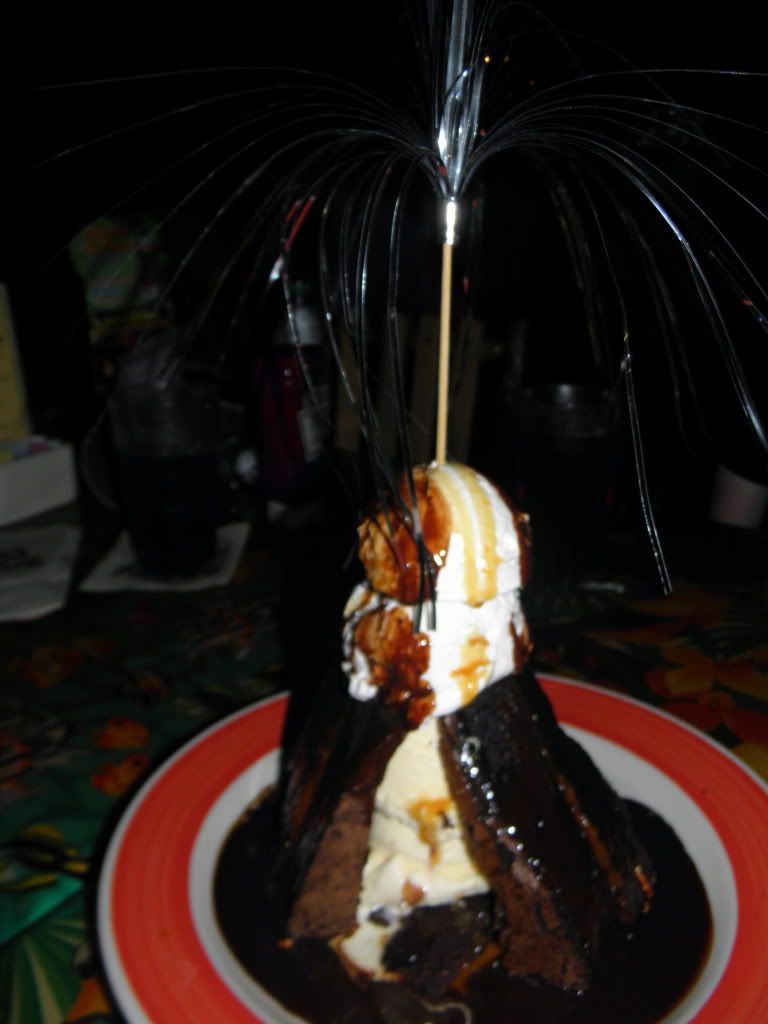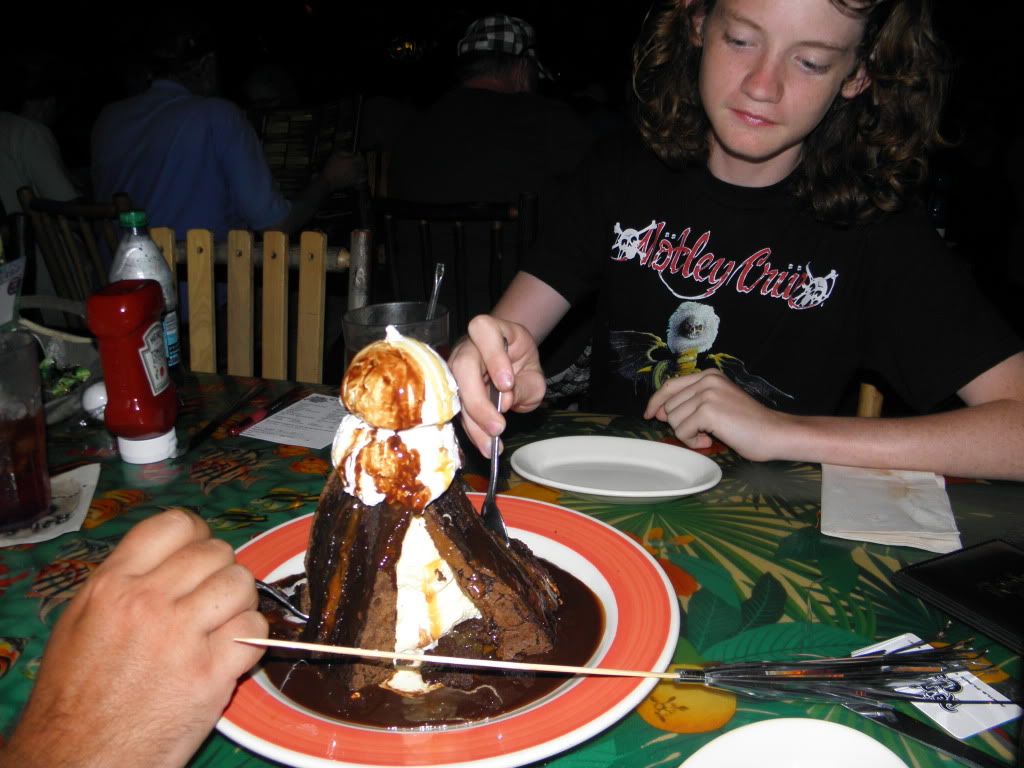 Even the three of us couldn't clean the plate and we tried.
Well that was day one of our trip. I'll be back tomorrow with Day two. Do you have a favorite place to eat when you visit Walt Disney World?