I am back from my hiatus. Thank you for all of the well wishes as I was recovering from surgery. I thought this would be a good recipe for Labor Day weekend. I love eating potato salad along side a good grilled burger. This is another one of my mom's recipes. Most of my favorite recipes come from my mom. I have many happy memories of my mom preparing potato salad and having her call me into the kitchen to be her official taste tester. Of course I had to taste it multiple times to make sure it was just right. I am the only person in my house who likes potato salad so I only make it to take to potlucks. Unfortunately, I am stuck being my own taste tester. It is a tough job, but someone has to do it.
I used my mom's recipe and a shortcut I learned from Christy Jordan over on her website
http://www.southernplate.com/
. Be sure to stop over and say hi and let her know I sent you.
The recipe in my mom's handwriting.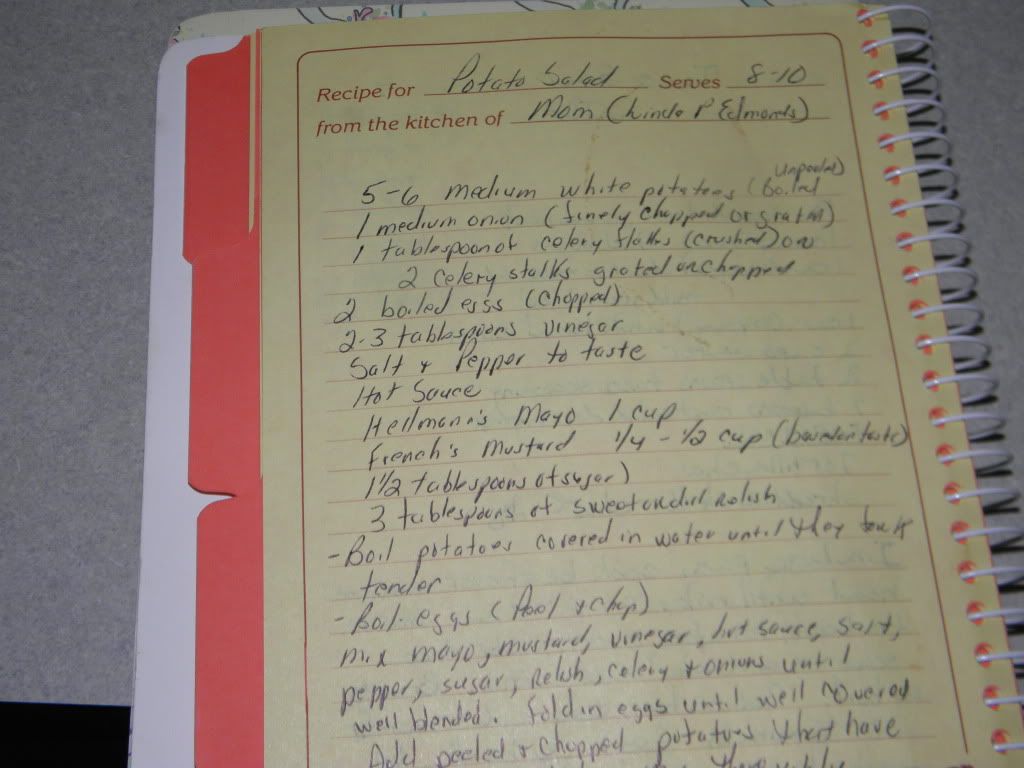 Ingredients
5-6 medium potatoes (boiled & unpeeled) or 1 bag of Southern Style Hash Brown Potatoes
1 medium onion finely chopped or grated
1 tbsp crushed celery flakes
2 boiled eggs (chopped)
2 -3 tbsp of vinegar
1 cup mayonnaise
1/4 -1/2 cup yellow mustard
1 1/2 tbsp white sugar
3 tbsp sweet or dill relish
Hot Sauce to taste
Salt & Pepper to Taste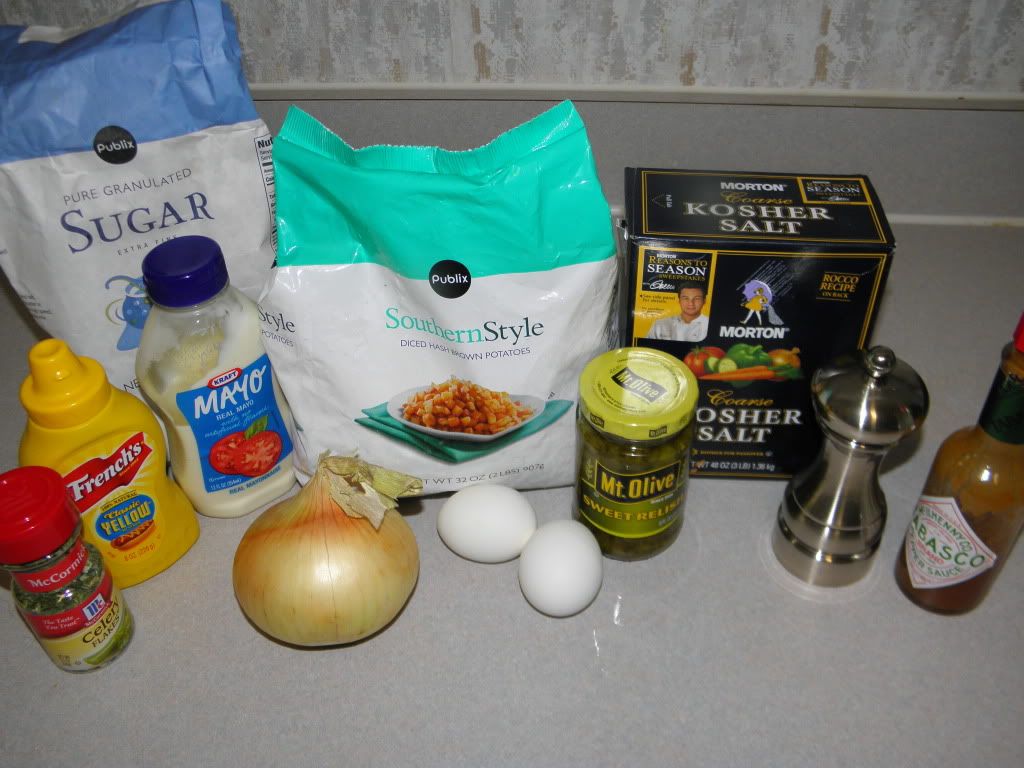 Directions
If you are using whole potatoes, boil until fork tender. If you are using the hash brown potatoes, boil for 2 -3 minutes and drain in a colander.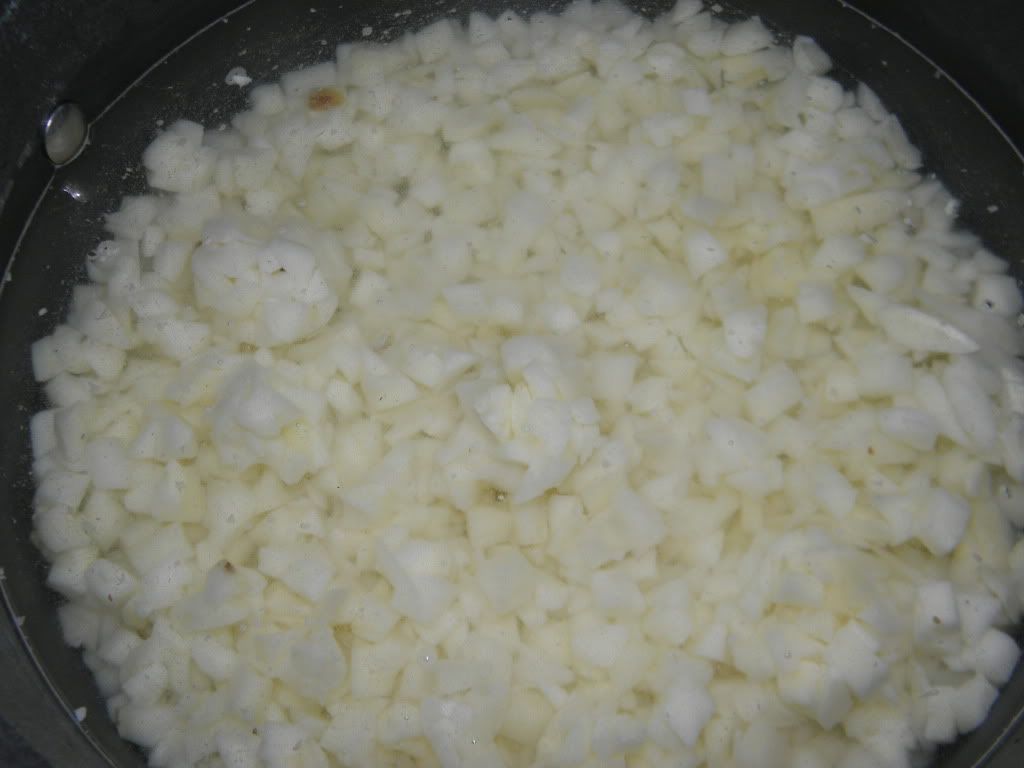 Boil, peel and chop eggs.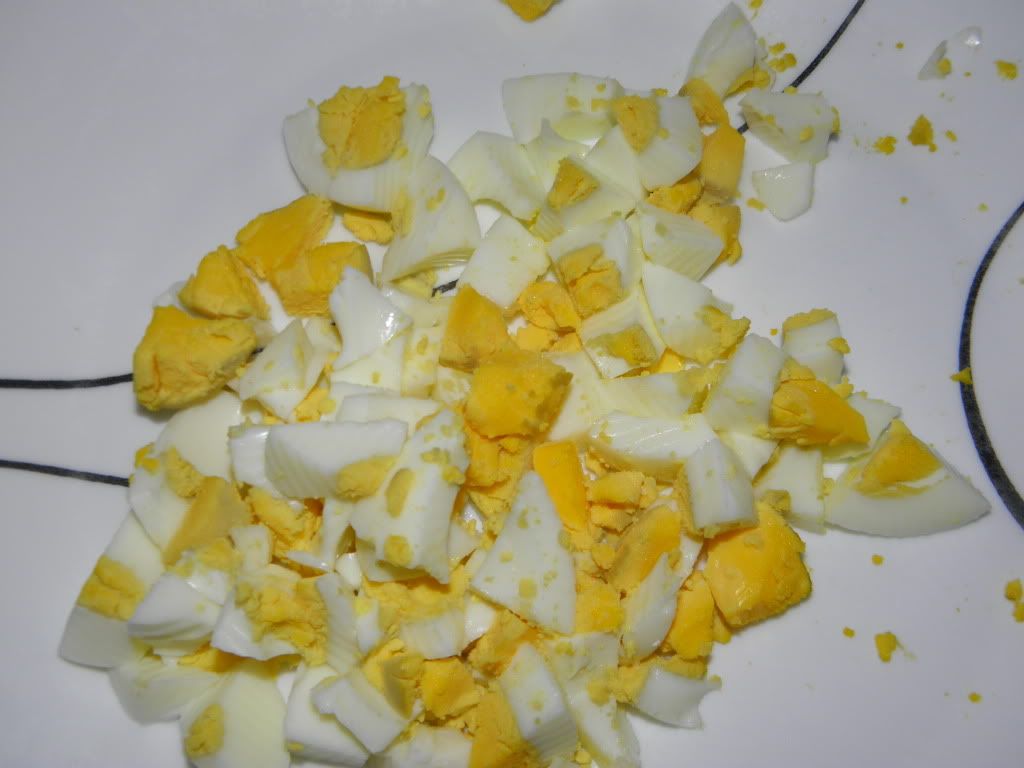 Mix mayonnaise, mustard, vinegar, hot sauce, salt, pepper, sugar, relish, celery and onions until well blended.
Fold in eggs.
Add peeled and chopped potatoes or the hash brown potatoes that have cooled. Mix thouroughly and add any needed seasonings to your personal taste.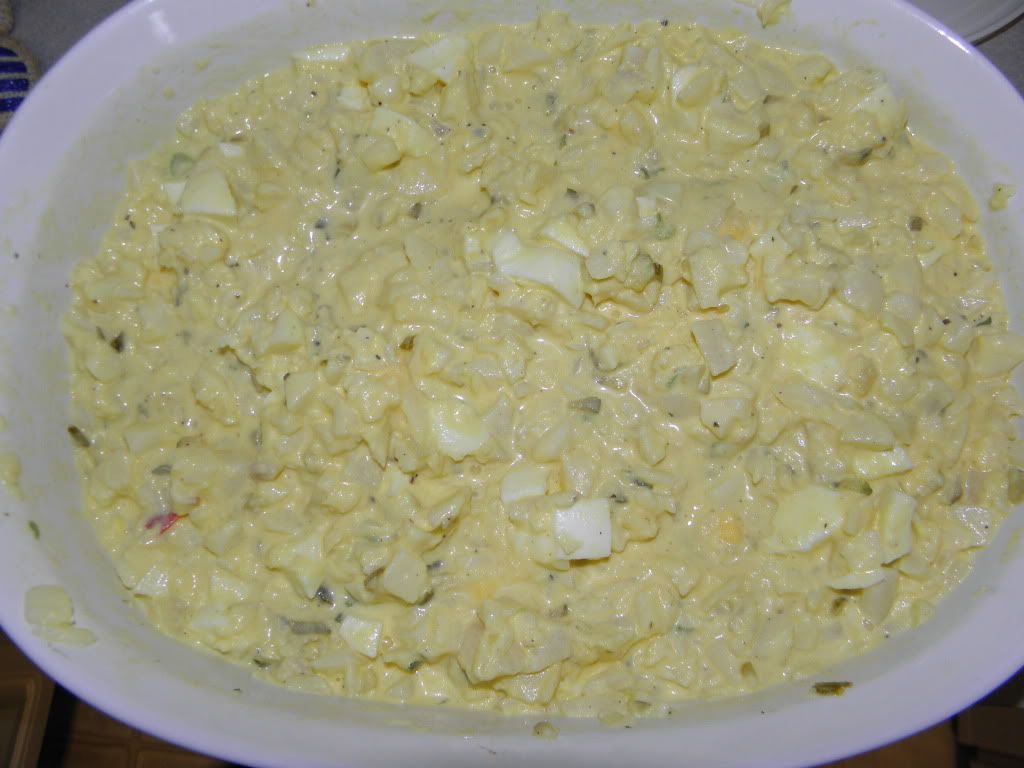 A few tips
1. If you use the hash brown potatoes make sure to only boil for 2-3 minutes, any longer and the potatoes will become too soggy.
2. I personally hate the texture of raw onions, so I usually grate the onions. You can also chop the onions and add to the boiling potatoes for 2-3 minutes.
3. The first time I read the recipe I thought it said to use both sweet and dill relish at the same time and I loved the combination of flavors.