Yesterday we paid a visit to the book store. Usually I buy my books online, download them to my Kindle or borrow them from the library. But when it comes time to buy a new cook I like to go to the store so I can look through it before I purchase it. Glamour's 100 Recipes Every Woman Should Know jumped right out to me.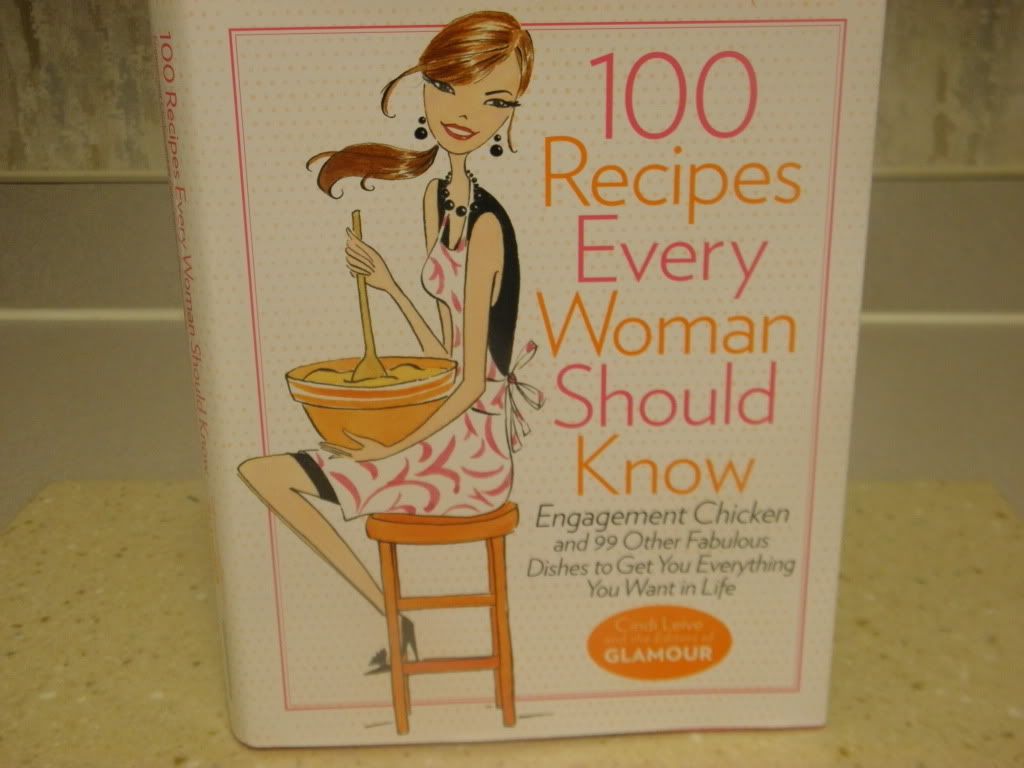 I started to panic, if these are recipes I should know, is there going to be a pop quiz at some point that I should be prepared for. I figured I should buy right it away just in case, because you never know.
The introduction of the cookbook discusses the recipe they say started it all, Engagement Chicken. Apparently women all over the country have made this chicken and have been proposed to shortly afterwards. I could have used that recipe years ago. (It took Michael 3 years to propose to me). The introduction also says that you can use the recipes in the book to get all kinds of things in life. So, I decided to start a new segment where I will try the recipes in this cookbook and share the results. I'll try to do two a week, so we should get through the book in about a year.
The very first recipe in the book is for the Engagement Chicken. I already had a chicken defrosted and all of the ingredients on hand so I decided to try it out. Of course I am already married, but who knows maybe; I will get a spontaneous foot massage or maybe the guys will be inspired to clean the apartment without any negotiating on my part.
Ingredients
1 whole chicken (about 4 pounds)
1/2 cup fresh lemon juice, plus 3 whole lemons, including 1 sliced for garnish
1 tbsp kosher or coarse sea salt
1/2 tsp freshly ground pepper
Fresh herbs for garnish
The recipe itself is simple. Just season and pour lemon juice on chicken. I was surprised they just wanted to use the herbs for garnishment. It seems like such a waste to not use the herbs for flavoring. But since this was a test I followed the recipe exactly.
So, it turned out pretty tasty, but I wasn't completely blown away or anything. No one held a parade in my honor or swept me away to an island somewhere. But I am still holding out for a delayed reaction. I think I will stick to my chicken recipe and I will be sharing it soon.