Before I announce the winner to my first giveaway, I thought I would first share the very scientific way I chose the winner. First I wrote each name on a piece of paper, one for each method they entered the contest. I placed all the names in a hat and had my husband pick a name out of the hat to select the winner.
And our winner is. . . Driving Miss Daisy! Congratulations! Please send me an e-mail at
latisha@spicedwithlove.com
to claim you prize! Thank you to everyone who entered my very first contest. Keep an eye out for the next one.
I am a little quirky or ditsy at times, but my husband Michael loves me in spite of my craziness or maybe because of it. He probably needs to be a little crazy himself in order to be so in sync with me. Last week I was watching a movie on TV. Michael came into the room and our conversation went a little like this.
Michael: What are you watching?
Me: Relic
Michael: Is that the one in Mexico with the killer vines?
Me: No, that was called . . .
And that was the end of the conversation because I could not remember the name of the movie. Until yesterday. We're driving along in the car listening to music and suddenly it comes to me.
Me: The Ruins
Michael: (laughing) What are we finishing the conversation from a week ago? You're crazy.
Me: (laughing) Well, you knew exactly what I was talking about so you must be crazy too!
And this is one of the many reasons I love my husband and one why I I love to wake up Sunday mornings and make him a breakfast like this one.
Ingredients
8 eggs
8 oz cooked steak strips
1/2 to 1 cup shredded cheddar cheese
2 tsp Fajita seasonings
A splash of milk
1 tbsp butter
Salt & Pepper to taste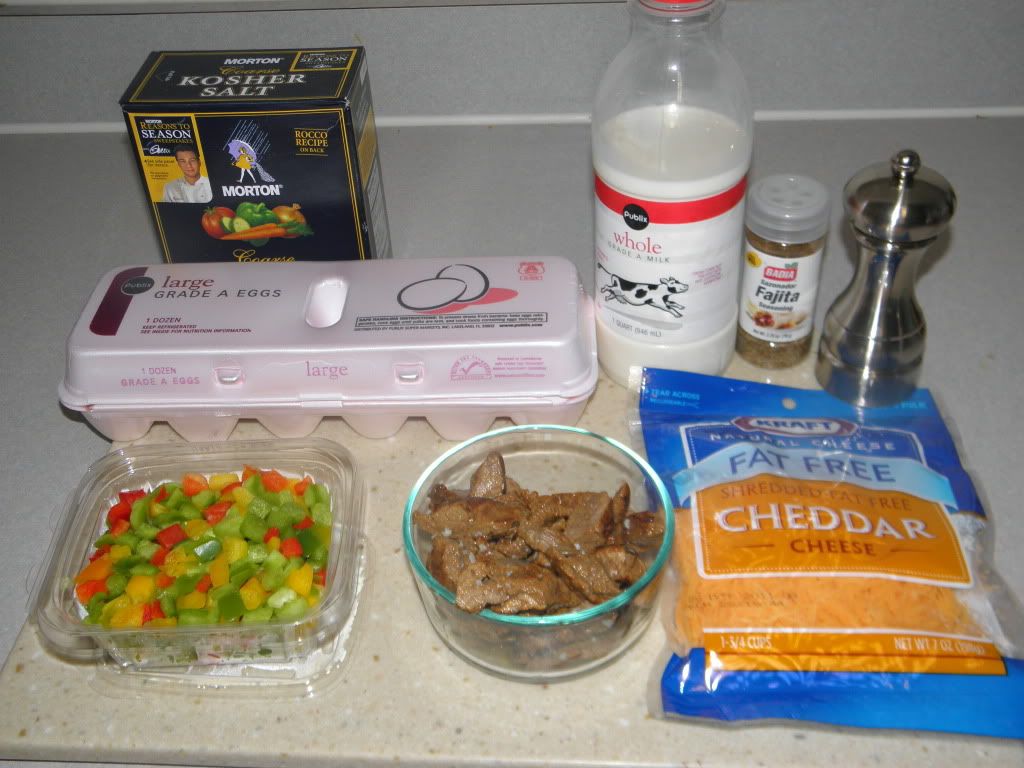 Yes, I bought the peppers pre-cut. It saves me time and I really hate chopping.
Directions
Preheat oven to 400 degrees F.
Melt butter in an ovenproof skillet.
Add peppers and saute until tender.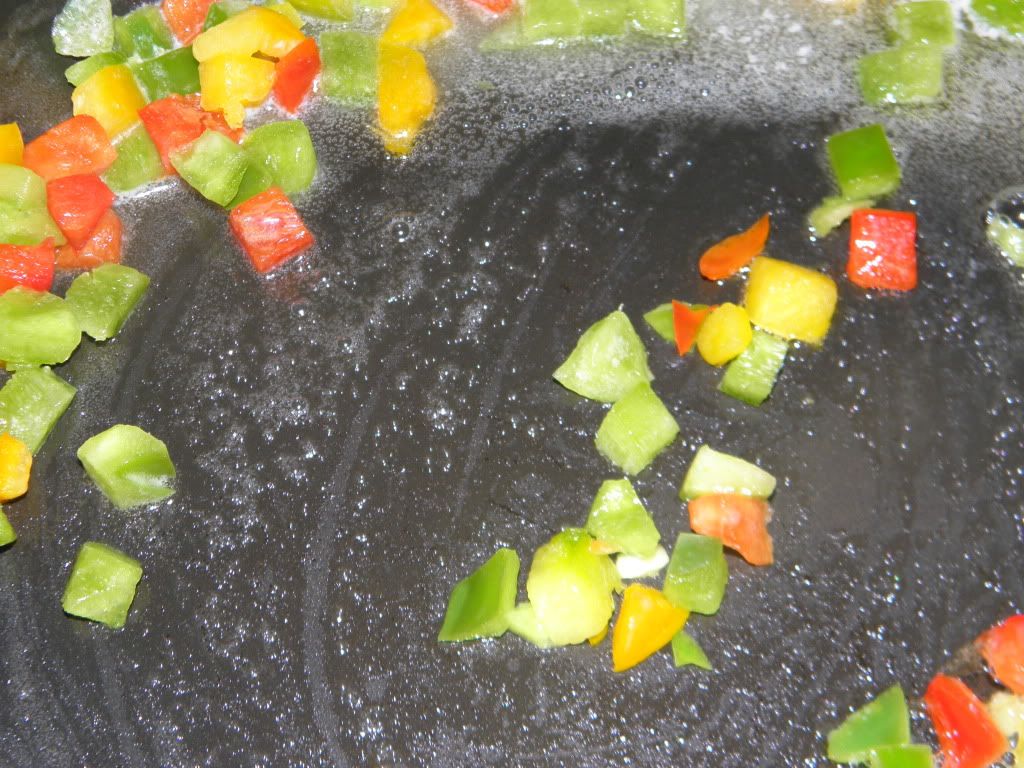 Add steak and sprinkle with fajita seasonings.
Meanwhile add eggs to a bowl, scramble with milk and salt and pepper. Add to pan.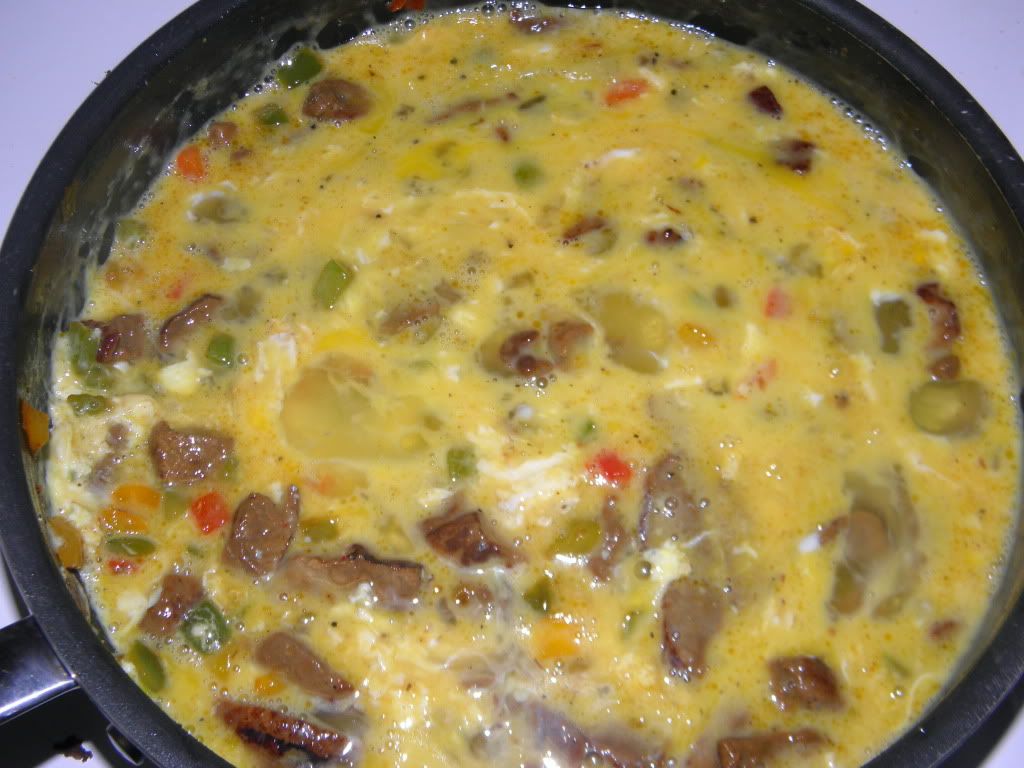 Stir eggs gently. Add 1/2 of the cheese.
As eggs set, lift up bottom skin that has formed and allow uncooked eggs to settle. Keep doing this until the eggs begin to set throughout.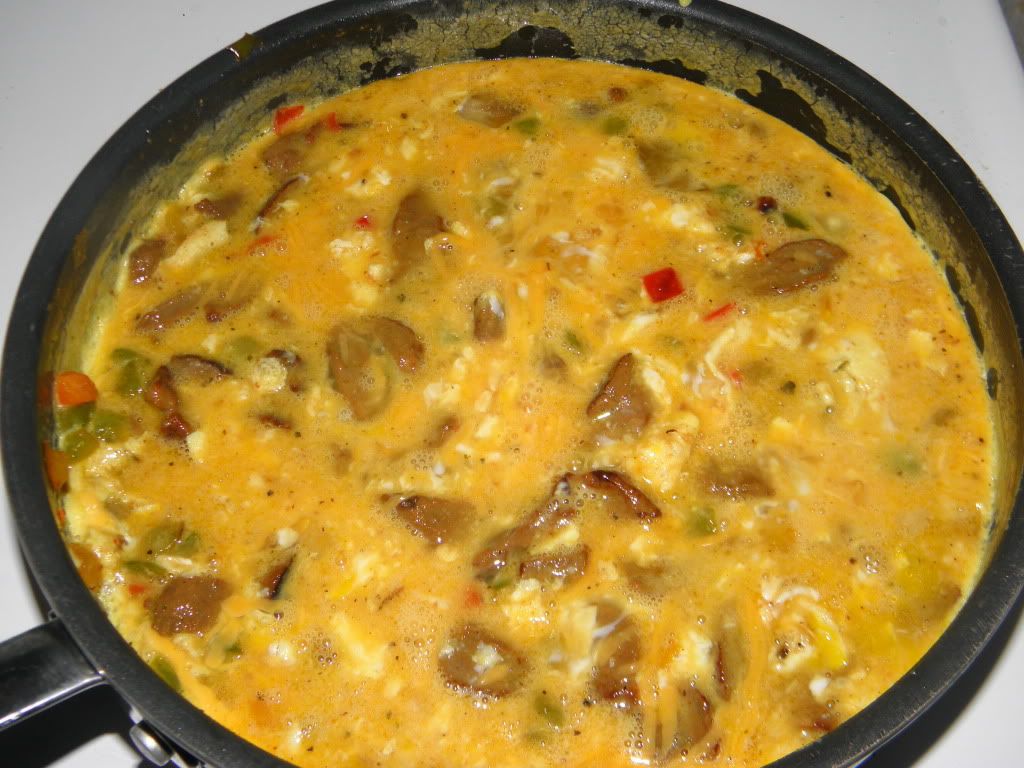 Add remaining cheese and allow frittata to cook in the oven for about 20 minutes or until eggs are completely set and cheese has melted.
Serve and enjoy!